Our heli-ski area, 5000 square km
Our heli-skiing area is about 5000 square km with several hundred peaks. This is one of the largest wilderness areas in Europe.
We are located 200 km north of the Arctic Circle and the season extends to the end of May.
The whole area is the size of half the Austrian alps and holds terrain that ranges from gentle with wide large fields to runs steep enough to challenge most skiers and snowboardes.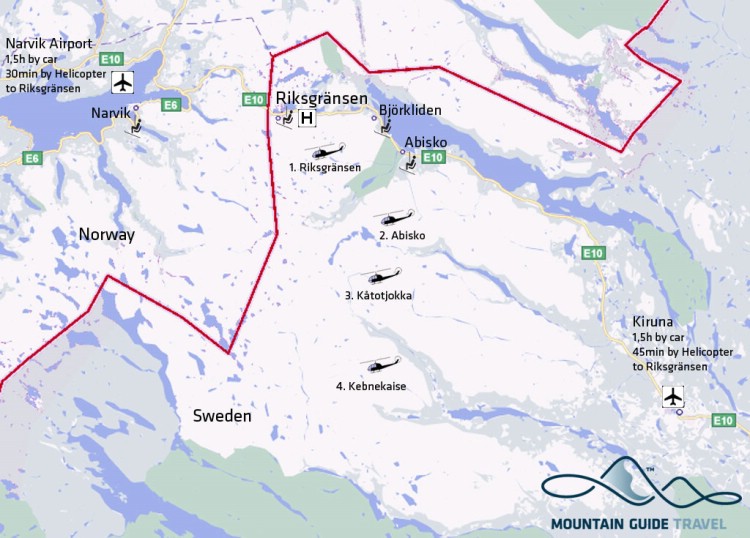 The whole area can be divided into several smaller areas.
1. Riksgränsen heli-ski area
The Riksgränsen area consists of about 15 mountain with Vassitjokka, Korsatjokka and Voitasriita as the largest. Many of the mountains has several peaks, which means that we have many different runs from each mountain. The wide variety of mountain sides in different directions allows us to find untouched snow often in this area. This is our immediate area with just 6 minutes flying time from the hotel. The runs are from 500 up to 900 meters vertical.
2. Abisko heli-ski area
12 different peaks and about 30 different runs up to 900 meters vertical.
3. Kåtotjokka heli-ski area
This is a large area with many mountains. Here we have runs up to 1100 meters vertical.
4. Kebnekaise heli-ski area
Kebnekaise is the highest mountain in Sweden that we fly around. The longest runs there are up to 1400 meters vertical.